Is a Frenchie right for me?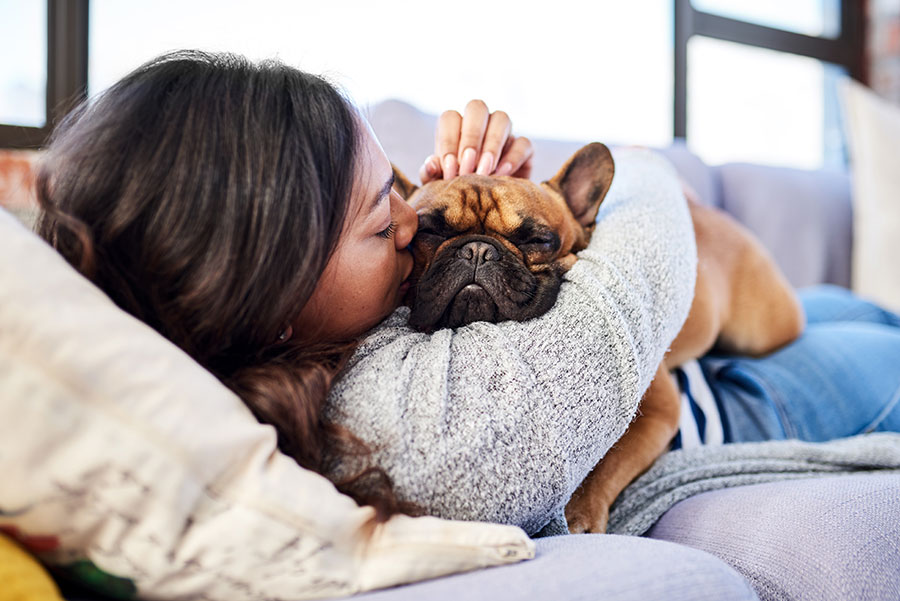 Anyone who knows about the French Bulldog breed understands these dogs have a one-of-a-kind personality making each one unique. With their big bat ears and spunky dispositions, what's not to love? Bred primarily as companion dogs, Frenchies crave all the love and affection we humans have to offer. Even apartment dwellers and first-time pet parents will love this affectionate breed as they're just as satisfied playing with their humans and k9 friends as they are being a couch potato. Goofy, yet intelligent, French bulldogs make an easygoing best friend for any dog lover.
As with bringing in any new forever furbaby, it is a big decision to make and should be considered a lifelong commitment, but, if your idea of the perfect pet is a pint-sized comedian with a special gift for napping, the Frenchie just may be the perfect fit for you!
Breed Characteristics:
General Health Concerns with Frenchies
French bulldogs are notorious for their long list of health concerns, but like with any breed, knowledge is key and buying from a reputable breeder can help save you thousands of dollars in future medical bills. If you are looking for a new Frenchie to buy, it is wise to talk to the breeder about the health of the parents and make sure they have been health tested and cleared by a reputable genetic and DNA testing company. Although not always the case, most Frenchie's health disorders can be passed down and known as hereditary conditions, or genetic. French Bulldogs are commonly bred for their appearance of flat faces, smushed noses and stocky build. The problem with breeding solely for looks is that it can bring in a host of unwanted characteristics causing spinal disorders, hip dysplasia and breathing difficulties. Below is a list of common genetic conditions in Frenchies, some of which can easily be tested for and treated if caught early.
Hip Dysplasia- Degenerative skeletal disorder in which the ball and socket joint of hip is not formed correctly
Brachycephalic Obstructive Airway Syndrome- (BOAS) is a common pathological condition that affects bulldogs which can lead to respiratory distress. Some of the abnormalities that contribute to this condition are elongated soft palate, stenotic nares, a hypoplastic trachea, and everted laryngeal saccules (a condition which occurs secondary to the other abnormalities). Due to these components making it more challenging to breathe, situations of heat, exercise and stress can make breathing more labored creating a vicious cycle that can quickly lead to a life-threatening situation.
CMR1- Canine Multifocal Retinopathy- eye disease caused by mutation
DM- Degenerative Myelopathy- health condition that affects the back legs of an affected dog
HUU- Hyperuricosuria- a hereditary condition that causes elevated levels of uric acid in urine
JHC- Juvenile Hereditary Cataracts- early onset of cataracts
IVDD- Intervertebral Disk Back Disease- disk herniation trough the shell, and compresses nerve tissue
Cleft palates- Genetic disorder commonly seen in brachycephalic dogs. It is an abnormal opening between the mouth and the nose that is caused when the tissues separating these two cavities do not growly together properly in the womb.
Allergies-
Food based
Contact allergies- reaction to something topical like detergent
Environmental- airborne, grass, plants
Health and DNA Testing
It is usually a good idea to have your puppy health tested if you are buying from a breeder that does not have health tested parents. Even then, it is good to know if your specific puppy carries any inherited traits or diseases. Screening can help identify the cause of a current problem as well as reduce the risk of future conditions, increasing the health of future generations and usually can be treated easier if diagnosed early.
Testing is simple and virtually painless. Test kits can be ordered by many different genetic testing companies online and owners can choose to send in a small blood sample or cheek swab.
DNA testing for coat color is also available and a good idea if you have bought breeding rights and plan to breed.
Coat Colors and DNA
Whether you're looking to breed or simply curious about your dogs DNA, coat colors and patterns can be difficult to read. Most breeders spend years researching and keeping up with all the new DNA possibilities that seem to appear each year. With words like, recessive and dominant, Isabella and Lilac and locus and allele, it can become very overwhelming for a novice. So, we've broken it down a bit for you to help you better understand the basics.
Before we begin, it is important to know a few things:
Each color or pattern you see on a dog is made up of a specific gene. We call these Locus. In the Frenchie world we know of 10 different Locus. A, B, Cocoa, D, E, K, S, M, L, I.
Each Locus we see is created by 2 alleles, one comes from the mom (dam) and the other comes from the dad (sire) of the puppy.
Each dog will either carry no copies, one copy or two copies of EACH Locus depending on what alleles were carried on by each parent.
Some Genes, Locus, are dominant- meaning they only need 1 copy to be displayed on a dog's coat. Others are called recessive meaning they need both copies to be present to make the coat visible of a specific color or pattern.
Here is a basic glossary of DNA Locus to help you understand the different colors and patterns.
Now, let's go back to High School Biology class where we learned all about the Punnett Square.
The Punnett square is a square diagram that is used to predict the DNA of a particular cross or breeding experiment. The diagram is used by breeders to determine the probability of an offspring having a particular genotype. The Punnett square is a tabular summary of possible combinations of maternal alleles (Mom/Dam) with paternal alleles (Dad/Sire). In this example below, we have two different Punnett squares. The one on the left is an example of the "B" locus (Testable Chocolate). The Mom/Dam's DNA for this allele is written on the left being "Bb". So, Mom carries one copy of testable making her a carrier (no visible coat color). The Dad/Sire's DNA is on the top, "Bb" also making him a carrier of Testable Chocolate. Remember: B= no copies, Bb=1 copy, and bb= 2 copies. This square makes the analogy that if you take the Mom's DNA for this particular Locus of "B" and mix it with the two alleles of the Father's DNA, theoretically 25% of the litter will be "BB" =no copies and these puppies will not carry testable chocolate, 50% will be "Bb"= 1 copy of testable and 25% will be "bb"= which is 2 copies of testable chocolate.
The example on the right would be an example of the "E" locus (cream). If the Mom's DNA is on the left of the square "Ee" (1 copy of cream making her a cream carrier) and Dad's DNA is on the top of the square being "ee" (2 copies of cream making him a visible cream dog) when put together theoretically, the litter will consist of 50% "Ee" (cream carriers) and 50% "ee" (visible creams).

It is important to remember that each Locus is diagramed separately. With that being said, the Loci can be combined with other Locus to create a large variety of DNA options. For example, we already know that by combining two copies of the "d" locus (blue) with two copies of the "coco" locus (untestable chocolate) we can create a lilac. The same can be said if we take those two copies of "d" (blue) and combine with two copies of "b" (testable chocolate) to create an Isabella. So, can we take all three of these Loci and combine them? Yes, all three of these Loci, two copies of each, will create the New Shade Isabella. The DNA will be dd, bb, coco. By combining different colors and patterns, it will change the colors, shades of colors and patterns on the dog. Breeders have discovered these interesting combinations over time and have discovered new colors such as Lilac and Tan Merle (d/d, co/co, at/a OR at/at, M/N) and Isabella Merle Fluffy wrapped in cream (dd, bb, M/N, I/I, ee) The more Loci a dog has in his DNA the more color/pattern combinations it will be able to create, when bred to a dog with similar genetics.
More Info For You: